Oh yeah! Both sides were huuuuuge parts of my childhood and growing up so when they put the two of them together I was super stoked on it. Its so much fun.
Im glad to see so many people familiar and love the Marvel Vs Capcom games. :D I see this in the Legends Facebook group im in as well. I guess it makes sense tho, Marvel Legends fans are Marvel fans and all.
16 minutes ago, watanabefan said:

Looks great. Getting serious Marvel vs. Capcom vibes from this one.
Thats exactly the vibe Ive gotten from this line.
Looks great. Getting serious Marvel vs. Capcom vibes from this one.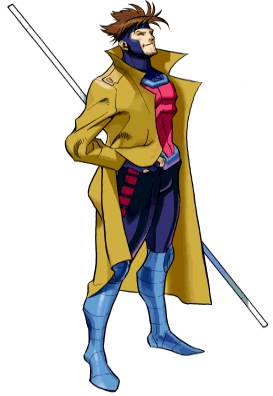 I'm liking this so far, tho I saw the reveal for the new Legends Gambit And that one does look a bit better for my collection. Also at the price point of this brand Ithink I'll get the ML.
Sooooooo Anime... I love it. I always wanted a revoltech but I never liked how their joints looked. Also another Gambit. Seems like 2019 is year of Gambit. Next we ll get a new Marvel Select and others.
This looks really really nice. I dont have any revoltech figures yet. It sounds like they look really goofy if you dont pose them right. But when people do,the pictures always look stunning with these guys. I really like the Deadpool one when the ACBA guysmake it look good. But this might be the nicest looking one yet! Damn. So many figures. So many temptations. So little money.
FASVB
-
2018-11-06 @ 1:32 pm
This one and Psylocke will probably come to my collection. Then I will have to go back and pick up Wolverine
What will they do next I wonder. Juggernaut? Imagine the size of that thing. But again they would have to fiz the serious issues that a big figure could have, like the vEnom that they made and had huge stability problems.
Hogun
-
2018-11-06 @ 1:24 pm
Just as Hasbro announced their Marvel Legends Gambit, we are now getting a RevoltechGambit. This will be my first Revoltech figure. I'm buying a case of next year's X-Men wave. But this figure definitely takes the cake as the better figure.


Forums Communities: Toy Fans - Marvel Fans - Transformers Fans

@ToyNewsI Socials: Facebook - Twitter - Instagram

@MarvelousNews Socials: Facebook - Twitter - Instagram

@Tformers Socials: Facebook - Twitter - Instagram

@JediInsider Socials: Facebook - Twitter - Instagram



Entertainment News International (ENI) is the #1 popular culture network for adult fans all around the world.
Get the scoop on all the popular comics, games, movies, toys, and more every day!

Contact and Support

Advertising | Submit News | Contact ENI | Privacy Policy

©Entertainment News International - All images, trademarks, logos, video, brands and images used on this website are registered trademarks of their respective companies and owners. All Rights Reserved. Data has been shared for news reporting purposes only. All content sourced by fans, online websites, and or other fan community sources. Entertainment News International is not responsible for reporting errors, inaccuracies, omissions, and or other liablities related to news shared here. We do our best to keep tabs on infringements. If some of your content was shared by accident. Contact us about any infringements right away - CLICK HERE